Dr Andrew Keating, L.Ac, DAOM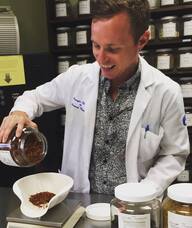 Dr. Andrew Keating believes health is a gift that allows us to connect to ourselves, others, and the world around us. From pain management and metabolic issues to the mental + emotional + spiritual axis that is a crown jewel of the 3000 year tradition of Chinese Medicine, Dr. Keating uses acupuncture, herbal prescriptions, fire cupping, medi-cupping, soft tissue work, ion pumping therapy, structural integration, advanced clinical nutrition and an array of healing modalities to treat a multitude of physical, mental and emotional conditions.
Blending the best of an array of integrative healing techniques that provide a unique therapeutic experience designed to restore harmonious balance to body mind and spirit, Dr. Keating is dedicated to helping regain and maintain optimum health and enjoys applying his skills to patient-centered problems.
Andrew Keating is a Licensed practitioner of Acupuncture & Chinese Herbal Medicine with a Master's degree from Pacific College of Health and Science and a Doctoral degree from the same institution. He is an orthopedic specialist and draws from a wide variety of course work and clinical experience including training at the nation's premier Chinese Medicine schools in California and New York City and UC San Diego's Sports Medicine Center for the prevention, management and rehabilitation of injuries for high-level athletes. Dr. Keating has undergraduate degrees in Psychology, Philosophy and Theology from Marquette University and enjoys teaching his patients how Traditional Chinese Medicine so elegantly combines all these facets of the human experience.
Dr Andrew's Disciplines